FAQ
The speed you need depends on if you are streaming content, making video calls or gaming. Browsing the internet, sending emails or using social media are not demanding.
Faster download speeds mean more devices can stream better quality content.
Upload is less important for normal users.
Latency (or ping time) is important for gaming. Under 100ms is OK but under 40ms is optimal.
Speeds needed for streaming:
| Quality | Speed in Mb/s | Resolution |
| --- | --- | --- |
| Standard Definition | 2 | 854x480, 640x480 |
| HD 720 | 1.5 - 4.0 | 1280x720, 960x720 |
| HD 1080 | 3 - 6 | 1920x1080, 1440x1080 |
| HD 1440 | 6 - 13 | 2560x1440 |
| 4K 2160 | 13 - 34 | 3840x2160 |
Speeds of 10 Mb/s will be sufficient for video calls.
Latency (ping) needed for gaming:
| Latency in ms | Quality |
| --- | --- |
| 10 - 40 | Optimal |
| 10 - 50 | Excellent |
| 60 - 100 | Acceptable |
| 100 - 170 | OK for turn-based games |
| 170 + | Some games will not play |
Our speed test works in all modern browsers including the latest versions of Internet Explorer, Edge, Chrome, Firefox and Safari. No other software or applications are required.
How does the speed checker work?
Our speed checker measures the time taken to download random data from our servers. Data is continuously downloaded until we are confident that we have an accurate result. If we have not calculated the accurate result after 60 seconds then the test is cancelled.
How long does it take the speed checker to complete?
Our speed test normally completes in around 20 seconds. This time is required to ensure that the test is as accurate as possible. Quicker tests are not as accurate.
How can I see my previous results?
We recommend that you keep your previous results so that you will know if your speed is getting faster or slower. The easiest way to do this is using the history option from our main menu as shown in the image below. You will be asked for your email address so that we can show you your results but nothing else.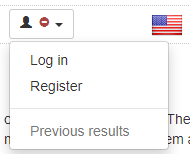 How do I reset my password?
Click here to open Password reset page. Enter your Email Address and click the red Reset Password button.
We will send you an email with a link to complete the process.
Please check your email inbox or spam folder and click the link.
Enter your new password and click the red Change Password button.
Login as usual by clicking the blue Login button.
Enter your email address and new password.
Click Start speed test and your result will be added to your previous results.
How accurate is the speed checker?
Our software analyses the performance of the test in order to ensure the results we provide are a true reflection of the user experience during the test. This is the actual speed at the time of the test and results at other times will vary depending on factors in the premises as well as other factors between the premises and the Internet.
What might affect my speed results?
There are many things that will affect the speed results that you will see. We have a page that describes these: How to improve your Broadband Speed
These include streaming of video on other devices in the premises and high demand on the Internet by other users as well as any technical problems experienced by the Internet provider. Your router, other software, poor Wi-Fiand internet provider all contribute to the speed of your connection.
Why does my speed vary?
Speeds can vary during the day for a number of reasons. You can read more here: How to Improve Your Internet Speed .
These reasons include:
Wi-Fi Interference (from outside your home as well as from your own devices)
Software updates and other downloads on your devices (mobile devices and TVs as well as your computers)
Increased Internet usage by others on the same ISP exchange
Temporary problems with your Internet provider
Programs running on your computer (including browser extensions)
Problems with your router
Faulty cables
Why is my mobile speed different from my desktop/computer speed?
This could for a number of reasons, such as:
Your mobile device is connected to your mobile network operator instead of your fixed internet operator
Your computer is connected via cable instead of Wi-Fi
Your mobile Wi-Fi equipment is different from your computer
There could be interference affecting one of the devices and not the other
They could be using different Wi-Fi frequencies (2.4 GHz or 5 GHz)
Other devices were using the internet for one of the tests and not the other
What can I do if my speed is lower than promised by my provider?
Why does the speed test fail?
We will keep trying to complete a successful test for up to 60 seconds before cancelling the test. This could be due to unreliable or unstable connection between the device and the internet. This is usually a temporary problem and repeating the test will be successful. If the test still fails then please check the factors that can affect your results: How to improve your Broadband Speed.
Where can I get more information?